How To: Insert Group Name Text into a Crystal Reports 2008 Section [Field Notes]
Problem:
I accidentally deleted the group name text from a section of my Crystal Report in Crystal Reports 2008, and now I would like to re-insert the text.
Solution
This is embarrassingly simple, and yet I found it to be surprisingly counter-intuitive. Maybe it's just me..
In the Field Explorer section, expand the Group Name Fields section and drag the name onto the report.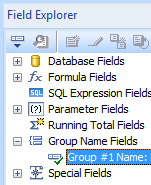 It's not under insert, not as a menu shortcut, etc. – as far as I can tell, the only place to drag a Group Name field from is there.